Starcraft Flash RPG
Game info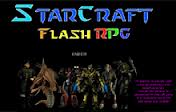 165 plays
Date added: 2012-10-31
Description: Here is the fampus game star craft RPG Game! Try to defeat the new ultimate Zerg mutation! Features: about 5-10 hours of playtime, save / load game, autosave after every won battle, quests, npcs etc.. Warning: This game is hard. Just don't give up after first loose.. (If you still die alot, reduce difficulty to "low", but remember "hard" is the best)
Instructions: Use Mouse to control.
After starting a new game, click on your hero (in the middle of the screen) and turn "selection lock" to ON, so you can click anywhere to move.
Your first step should be to go to Barracks and buy medic or fire-bat. After that, just go out of the city and enjoy watching how your squad kills some zergs. You gain experiences, minerals and gas in battles or by doing quests. Spend them in Barracks, Factory, Shop, Spaceport or Laboratory.
More games