King of Shapes
Game info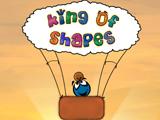 147 plays
Date added: 2012-08-27
Description: The King of Shapes enjoys bantering his servants…help him out in this brand new physics-puzzler! First, place the objects to keep the servants above the magical line...then remove the same objects to make the servants fall into basins!
Instructions: Add pieces - Use the mouse to place the pieces.
Remove pieces -Click on the pieces after they've been placed.
More games