Dragon Ball Fierce Fighting
Game info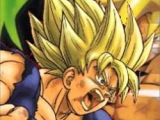 24092 plays
Date added: 2012-08-02
Description: Enjoy the Dragon Ball Fierce Fighting. Version 1.8 is a game more fierce for Goku, but he is ready to take the challenge. Now it is time to fight! Your task is to take on the role of Goku and accompany him on his trials taking out the various challenges that comes across his way.
Instructions: 1p: WASD to move, UIOJKL to attack;
2p: Arrow keys to move, 123456 to attack.
More games